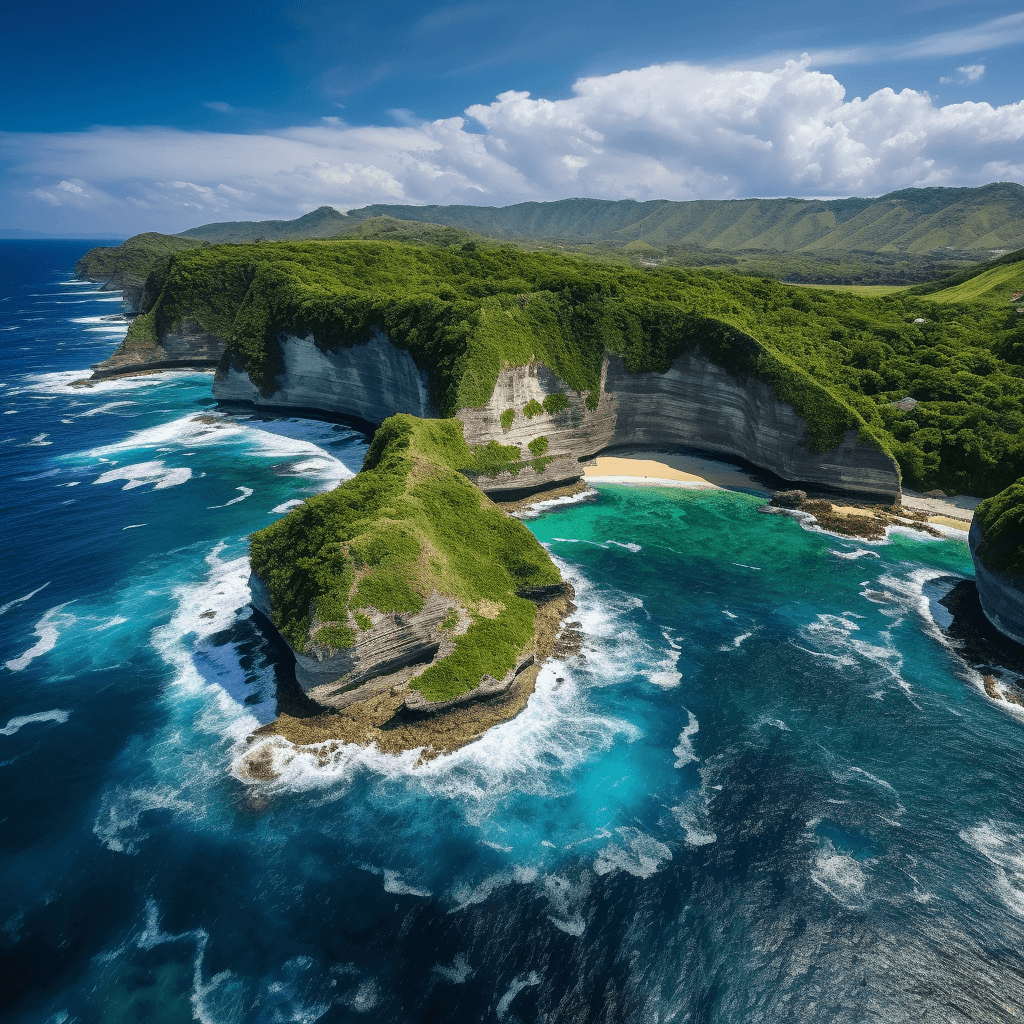 Travel Guide: 48 hours in Nusa Penida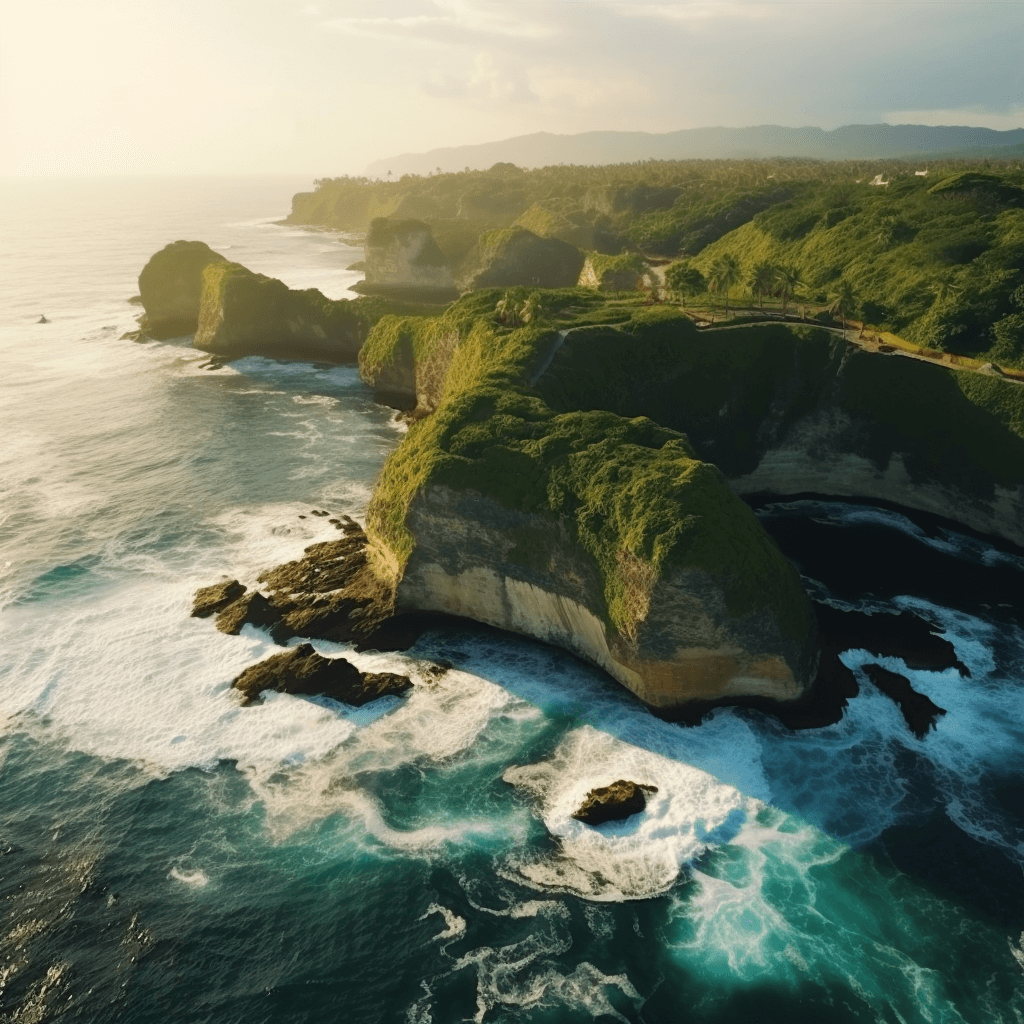 The island of Nusa Penida, despite it's short distance from Bali, used to be skipped over by travellers. Today, due to many of it's landscapes blowing up on Instagram, this island is attracting a LOT of people. Penida is now just as popular as Gili T or Nusa Lembongan and for good reason. With amazing diving and snorkelling opportunities, beautiful beaches and jaw-dropping landscapes, we're always amazed by how unique this island is.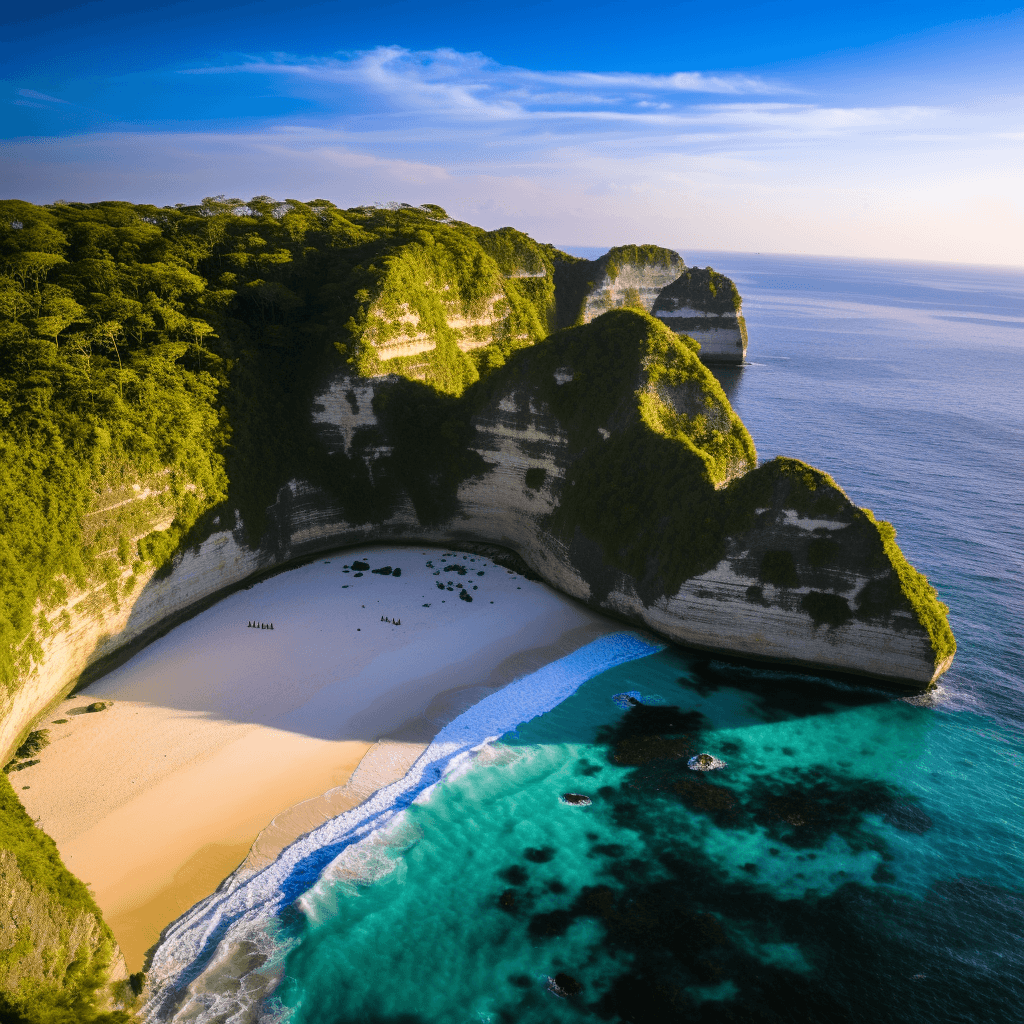 We've now visited the island three times. Typically we visit Penida for just a few days, so by no means are we equipped to call this an ultimate guide to the island. However, we've been able to squeeze in quite a lot thanks to long hours of research. In this travel guide to Nusa Penida you'll find our must do's for a two or three night stay.
Getting there from Bali
1 . All inclusive: The most convenient option is booking a package from your accommodation in Bali which should include transport to the ferry, the return ticket to Nusa Penida by speedboat and transport upon return to Bali to wherever you're planing to stay next. Most companies charge the same flat rate of 450-600k IDR per person, but be careful if you are staying in places like Canggu or Ubud, as many will try and tack on an extra 200k just for the transport by private car, often times without telling you beforehand.
The first time around, we paid 600k due to not doing enough research in advance, however we managed to get the driver to drive us back to Canggu at no extra cost. While most boat companies depart from Sanur which is just east of Kuta, our driver took us to Gangga Express in Tribuana, which is much farther north up the coast. This increased the distance we traveled by car but made it a much shorter boat ride to get to Penida, thus increasing our driver's profit as the boat ticket is less expensive.
On our second trip, we used the same driver but cut out the middle man from our hotel and paid 350k, with pick up in Ubud and drop off in Canggu, which we think is a good price.
We've used Wayan as our driver on three occasions now and his service has always been amazing, so if you're looking to get the same price we did, you can contact his WhatsApp: +62 821-4509-8772.
2. Do it yourself: If you're up for it, you can also book the boat service yourself. When you know the dates you want to visit Nusa Penida, get yourself to the harbor early to book your ticket. We would highly recommend getting yourself to Gangga Express in Tribuana to book the 200k round trip ticket as we heard many people having bad experiences when leaving from Sanur. On the day of your journey, just get a taxi, or better yet a Grab / Uber to take you to the jetty. The boat we took was on both occasions in great condition, had more than sufficient power and the ride was surprisingly pleasant.
What to do
Rent a scooter
As soon as you're dropped off on Nusa Penida, grab yourself a ride from one of the locals which will undoubtedly be waiting for you at your drop off point. A fair price is 60k per day.
Many tourists chose to imitate the locals and ride without a helmet on Nusa Penida as you'll never get a ticket for it. However if you intend on visiting any of the destinations described below, we would strongly recommend wearing one at all times. On our two trips to the island, we witnessed several tourists on the side of the road dusting themselves off and tending to injuries having just fallen off their bikes. Nearly all the roads on the island are in poor condition and many places have gravel and sand sitting on the asphalt which increases the risk of accidents as well. This doesn't have to mean get your wallet out and hire a car, as long as you're careful, get a bike in good condition and avoid getting caught on some of the worse roads at night, getting a scooter is still the best way to explore Nusa Penida.
We can confirm, the Instagram famous Kelingking Beach is even more impressive than we hoped it would be, even after seeing hundreds of pictures of it while scrolling through our social media. Kelingking, as are most of the other main points of interest, is located on the southern coast and is most visited at sunset. Therefore, on both occasions that we visited, we opted to wake up early and be the first one's there for sunrise in hopes of it being less crowded. We got on the bikes at quarter to six and after a forty minute drive, got to the famed beach just after sunrise and had it all to ourselves for over an hour.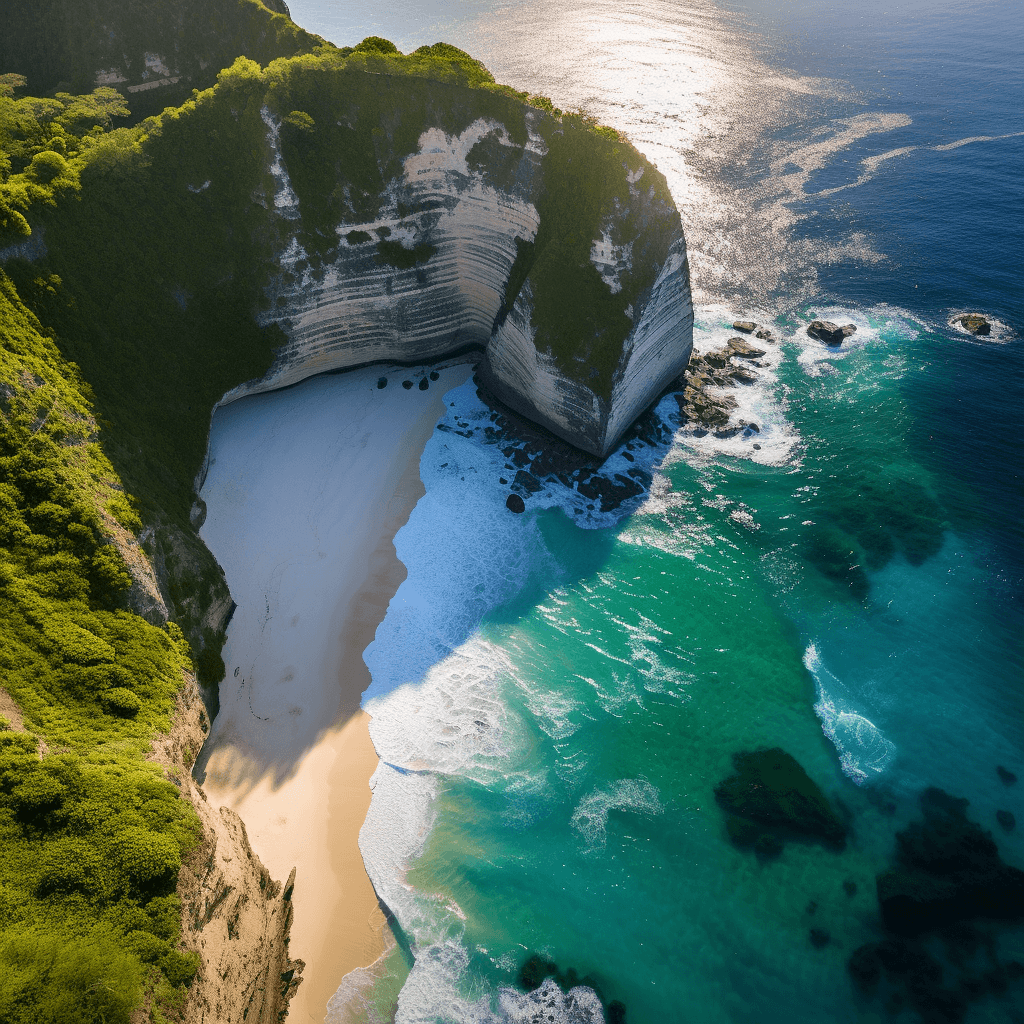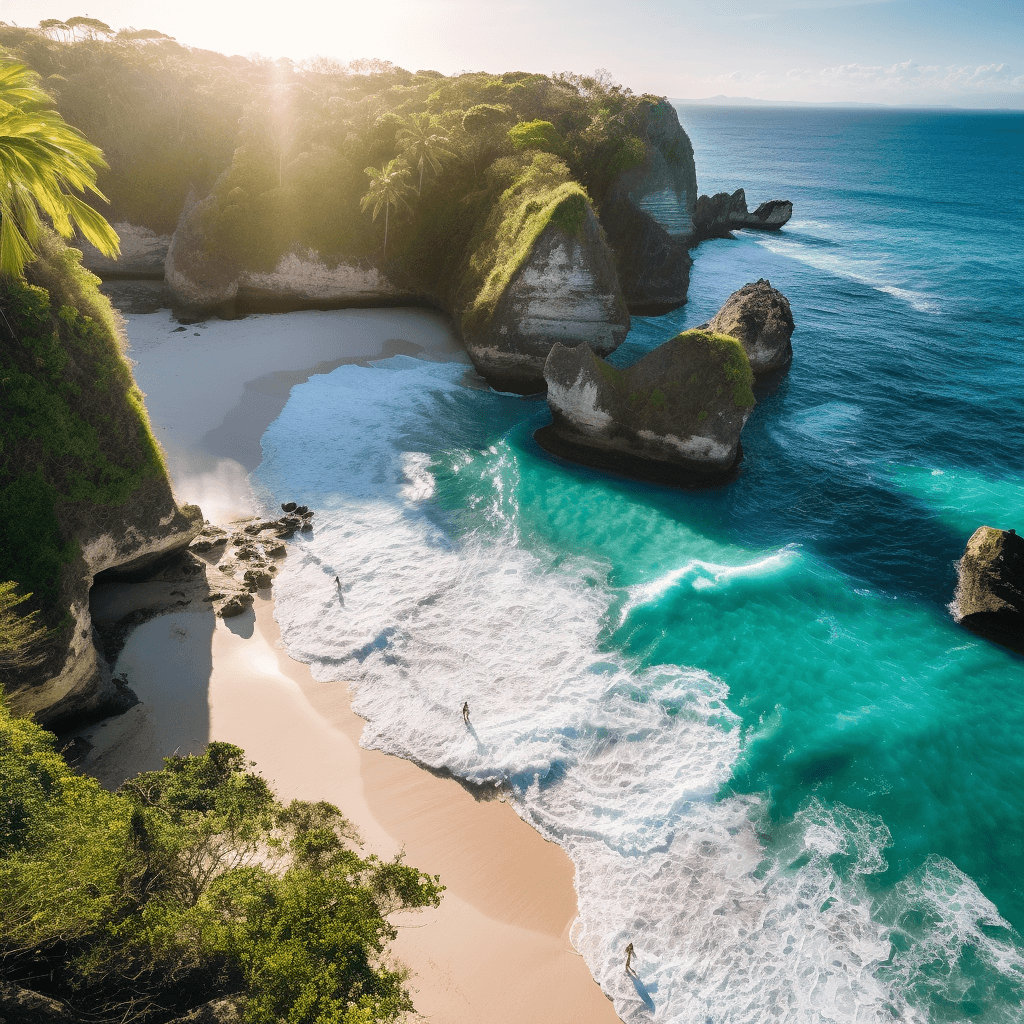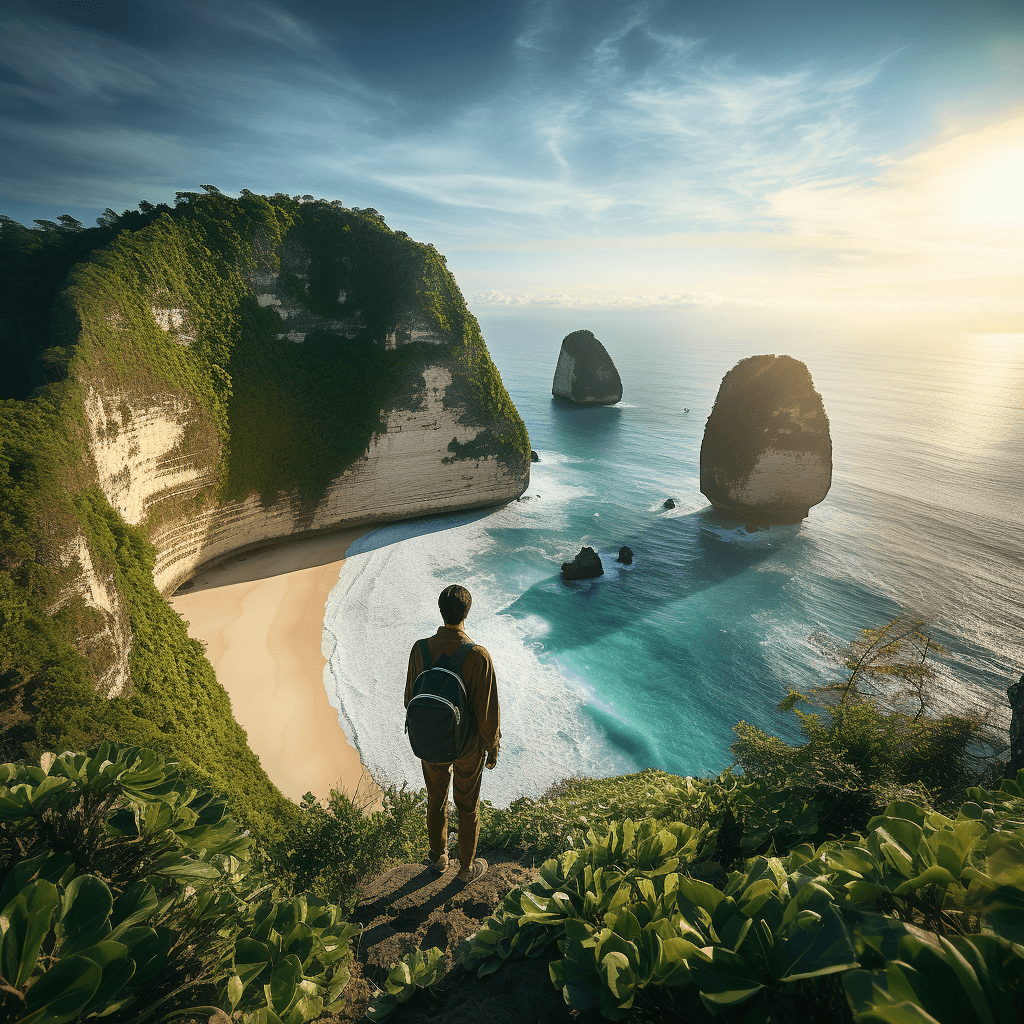 The idyllic white sand beach perfectly framed by the massive cliff jetting out into the ocean is accessible only by a set of nearly one thousand sketchy and often completely vertical steps. With good shoes and your possessions firmly attached to your back, the climb down is OK but seeing tourists attempt it in flip-flops really made us question their sanity. Sam made it onto the beach on our first visit and we both got down on our second trip.
If you don't want to go down to the beach but carefully make your way down the first twenty steps or so, you will reach a point where a wide angle lens will be able to capture some stunning pictures displaying the entirety of the T-Rex.
Hidden spot: If you do make it down to the beach, on either extremity near the cliffs there are two caves which make for some really nice unique shots!
We made Banah Cliff Point our first stop on Nusa Penida and what a way to start our trip! Our jaws dropped when we saw the views surrounding us. The golden hour was magical and it's far less busy than Kelingking which gets really crowded at sunset. There was nobody else around Banah Cliff point the whole time we were there.
How to get to Banah Cliff point: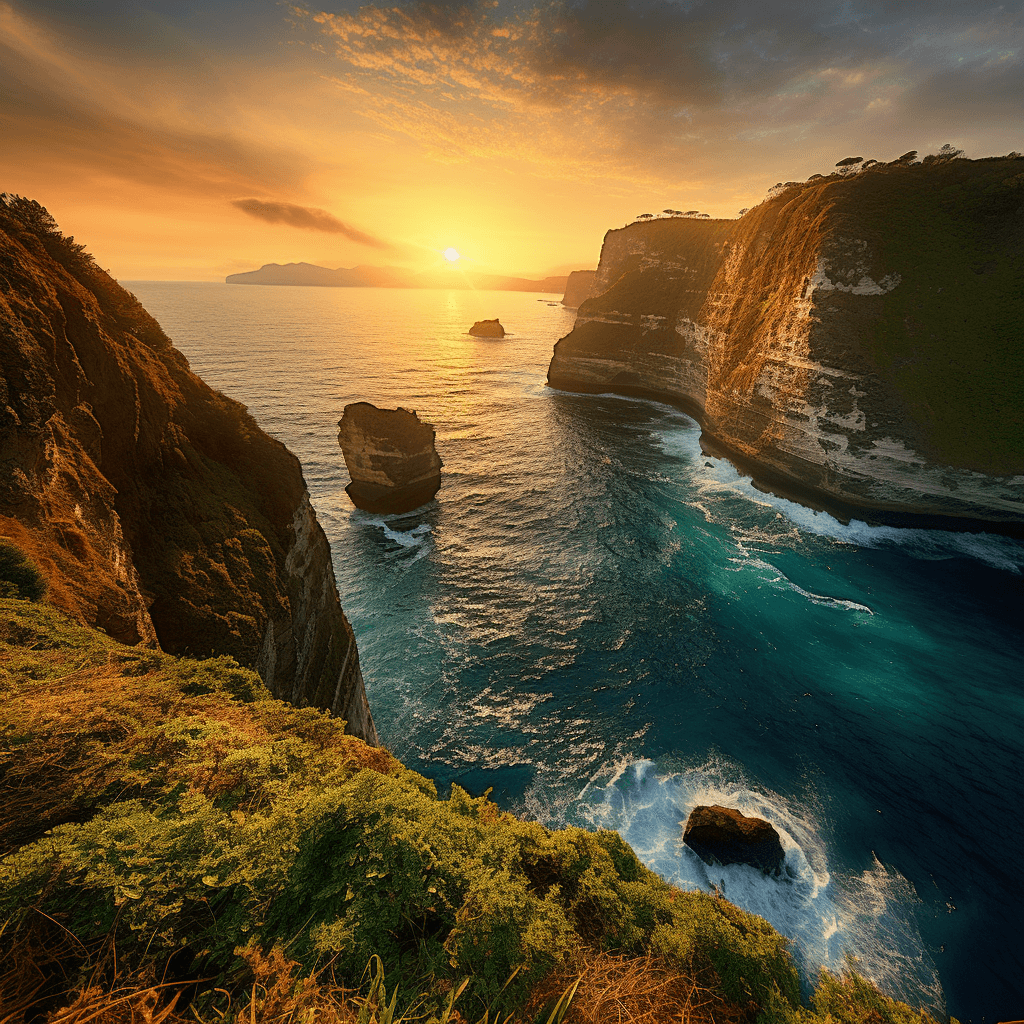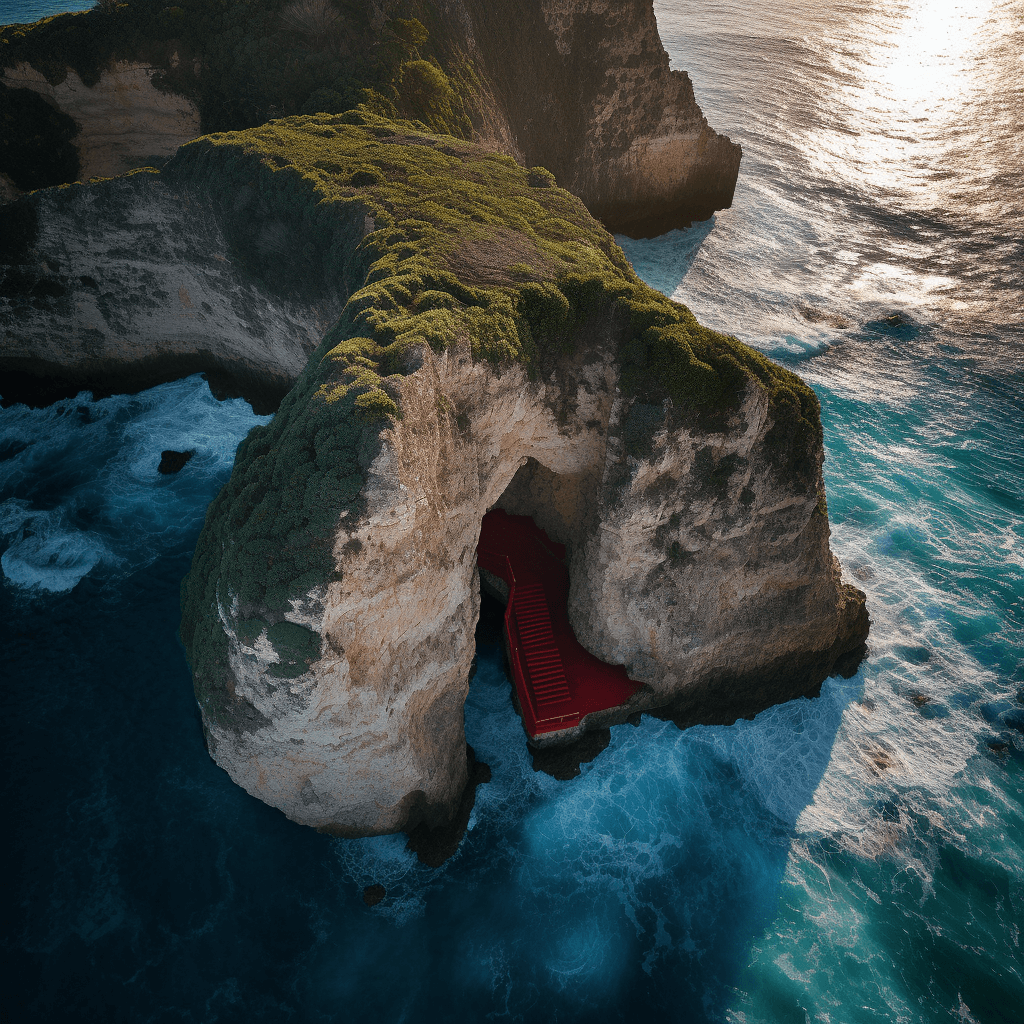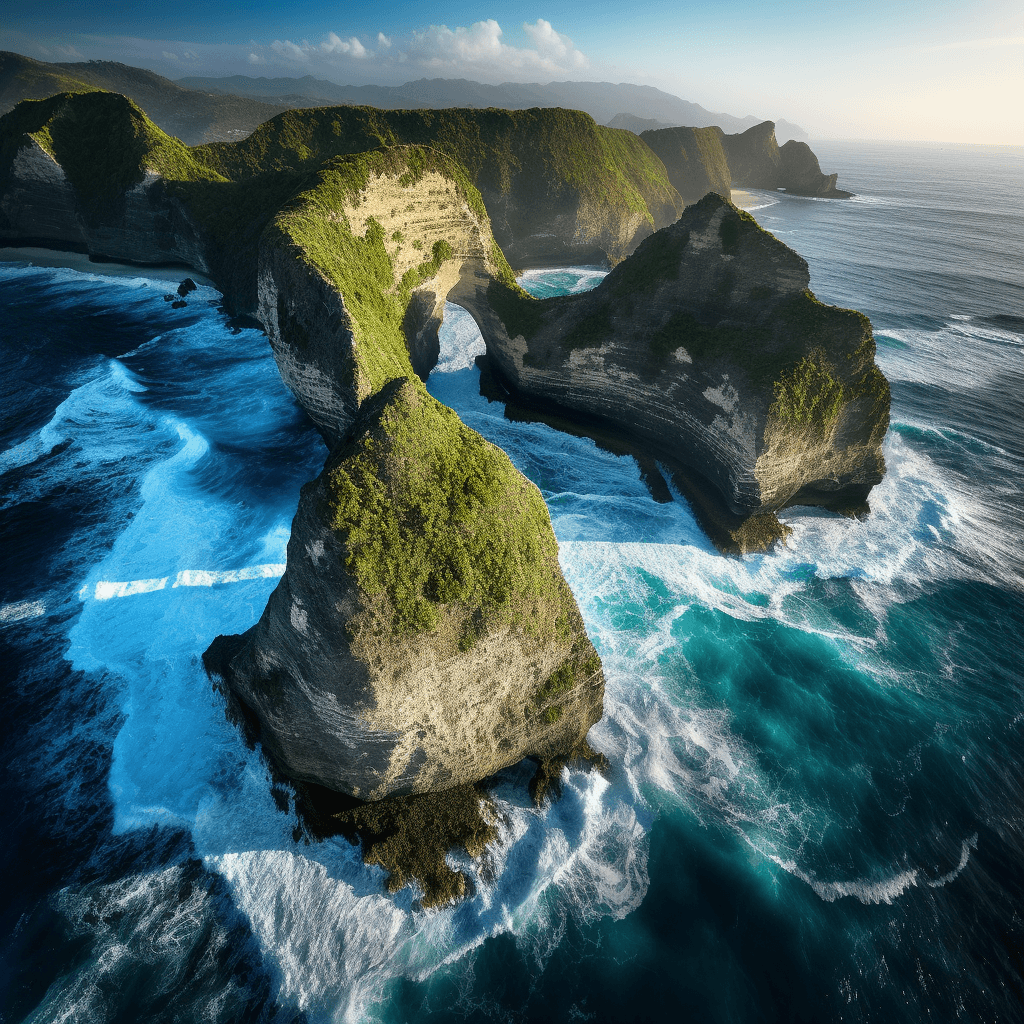 The road to get here is the worst of the points of interest in this section, but it's not everyday you get to see a natural infinity pool and a beach in a massive hole in the ground below you. Much like Kelingking, it get's incredibly hot and busy here in the middle of the day and there isn't much shade to be found, so we'd try and plan to spend the morning or late afternoon here.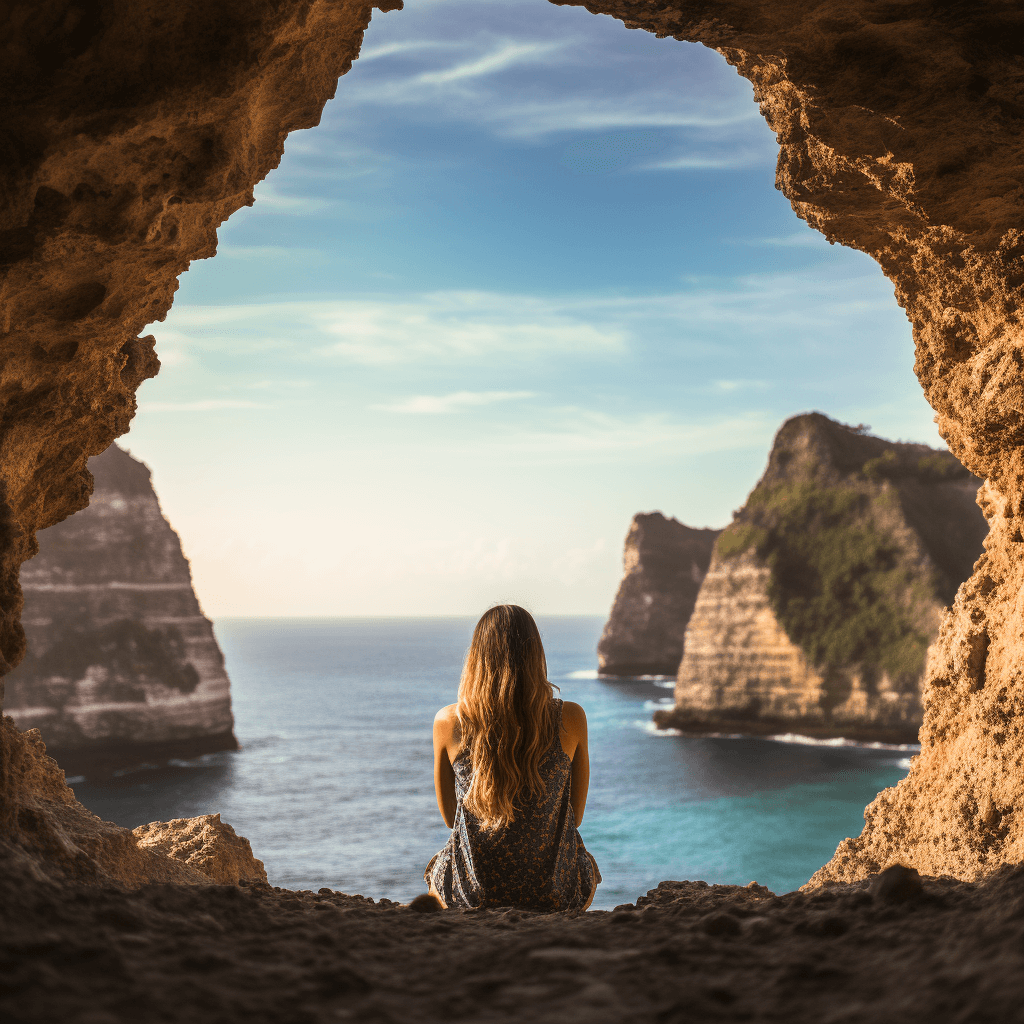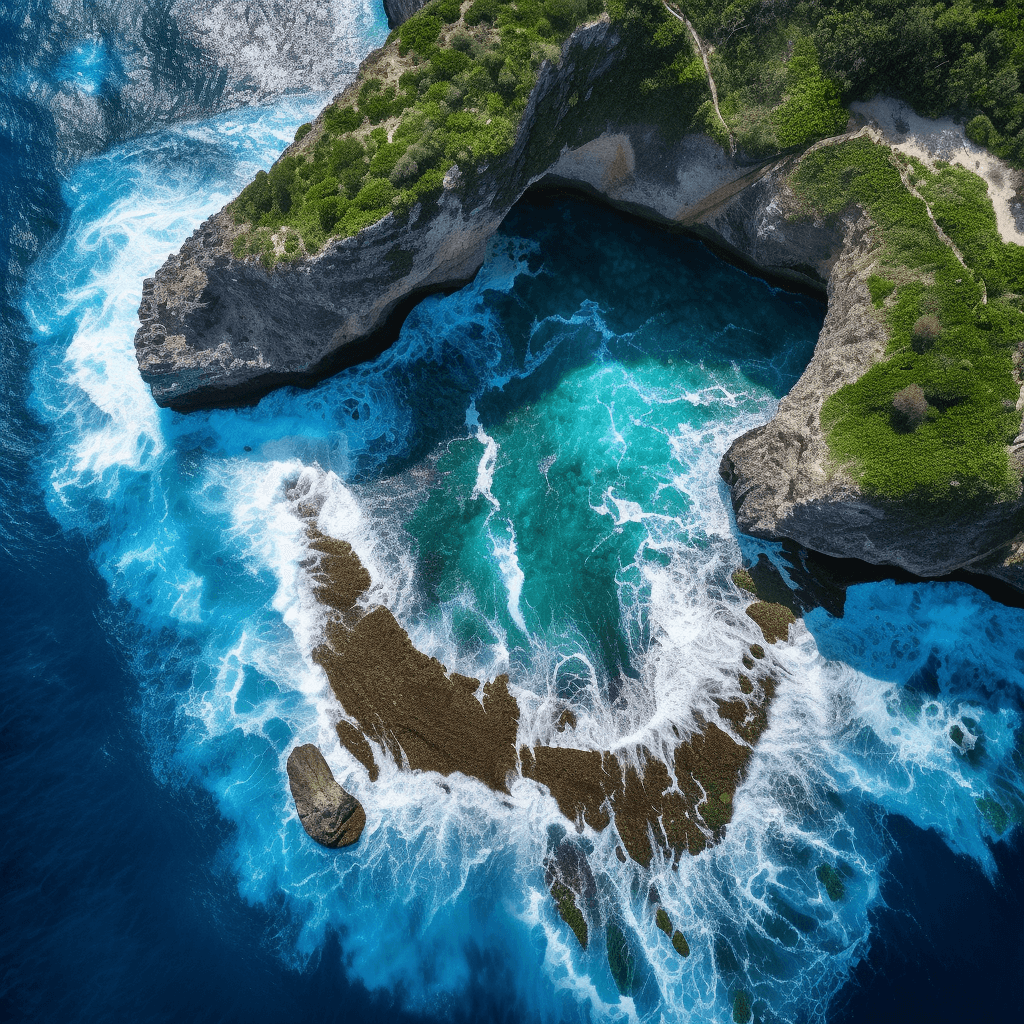 Our top pick for breakfast and lunch on Penida, conveniently located and serving up great coffee, smoothie bowls and burgers until 6 PM. The Dragon Bowl and Rock Butter (both pictured below) were our personal favorites. Both come topped with bananas, strawberries, granola, coco shreds and a whole lot of love!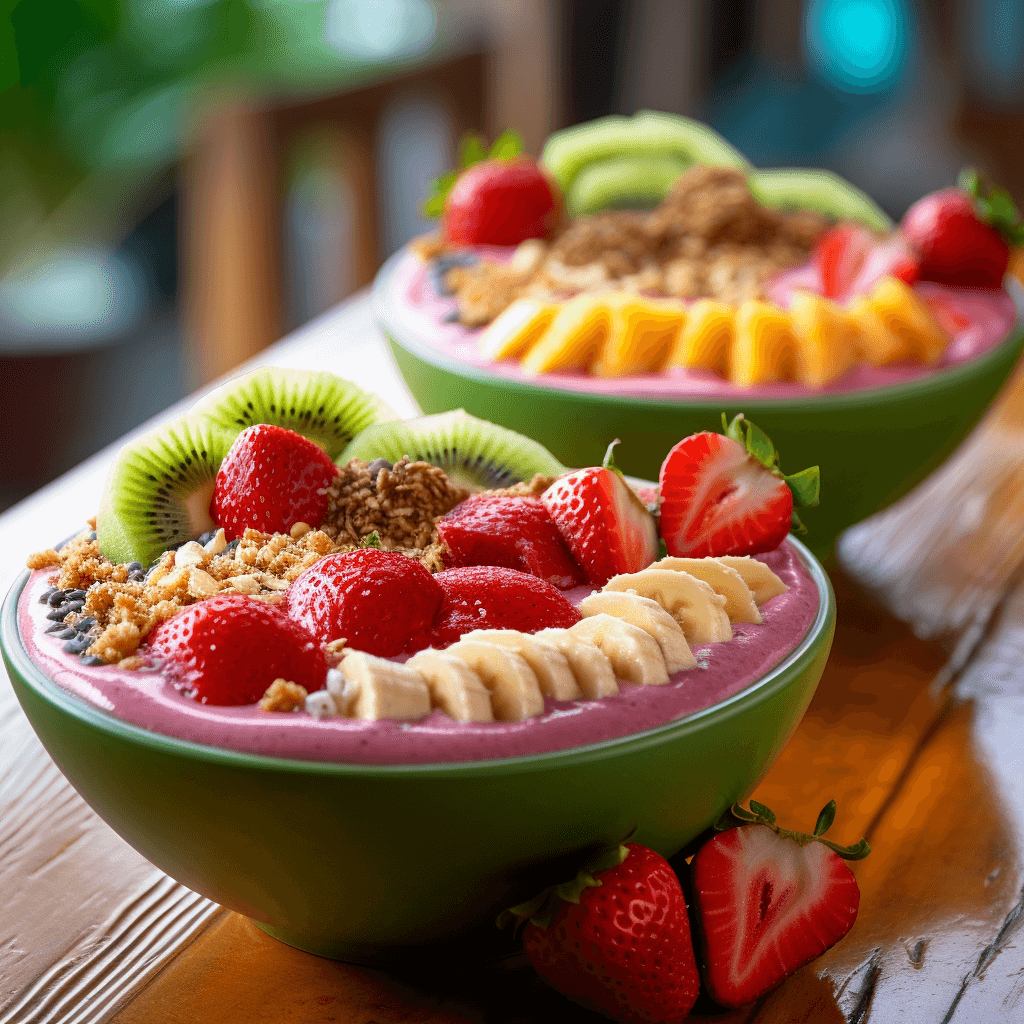 Crystal Bay Beach Nusa Penida
One of the easiest beaches to access on the island, Crystal Bay is a perfect spot to sit back and relax after a morning of exploration. It is also an ideal place to watch the sunset directly over the horizon. As a bonus, the road leading down to the beach is one of the most scenic routes on Penida!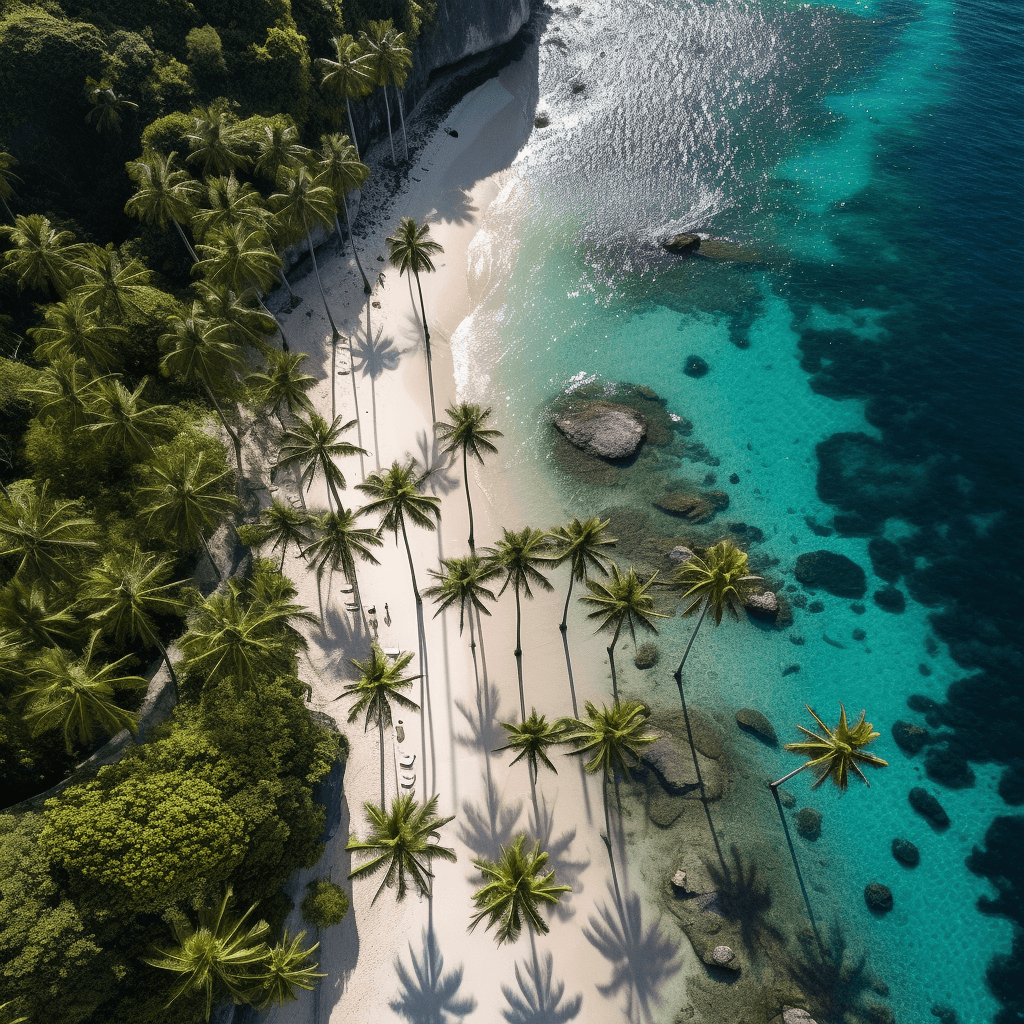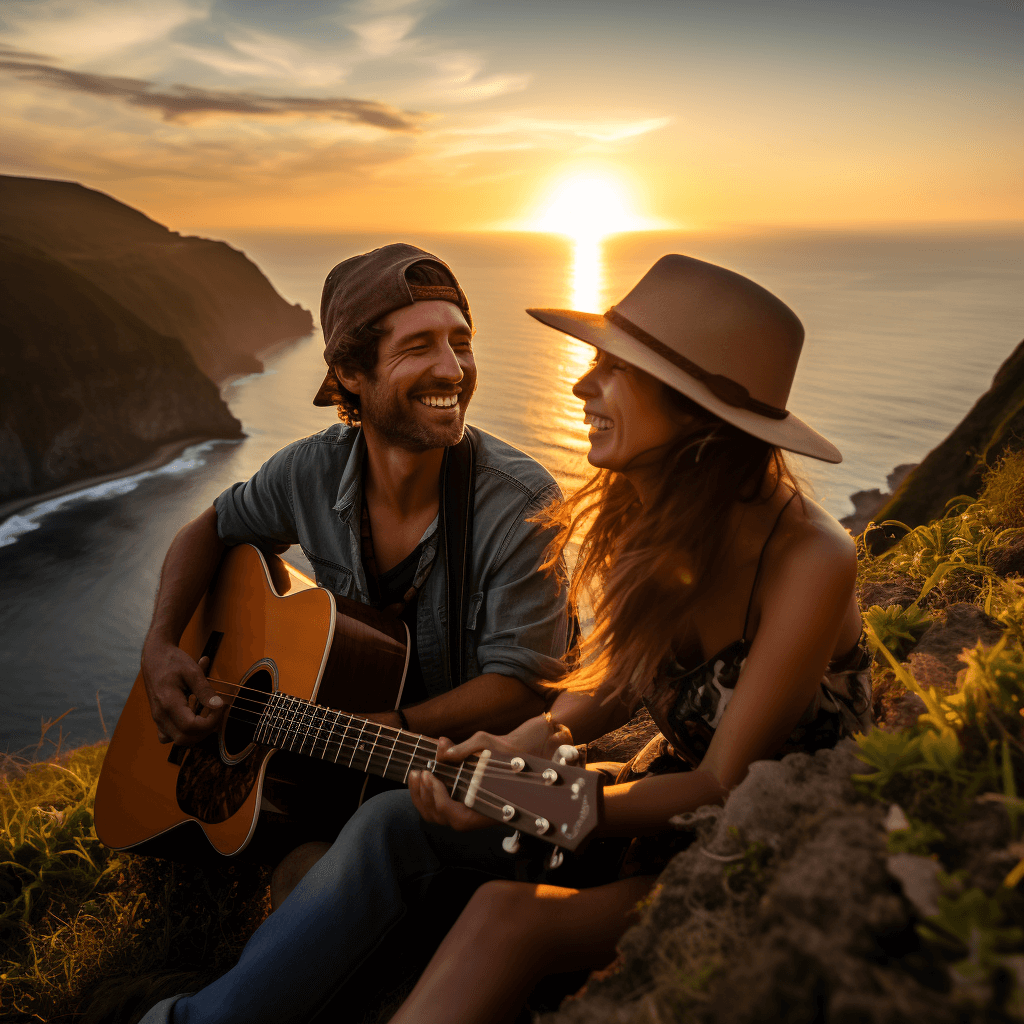 What we missed
Diamond beach: Heard really good things about this beach which is located on the east coast of the island. It's another 20-30 minute climb down but from the pictures we've seen it's well worth the trip.
Snorkeling with Manta Rays: These massive animals look SO impressive and we're really bummed we missed out. There are several reputable tour companies on both Nusa Penida and Lembongan that will bring you out on a full day trip including Manta Point for around 250-350k per person.
Visit Nusa Ceningan & Lembongan
On our second visit, we had a third day which we used to take a day trip to Nusa Lembongan and Ceningan. Our hotel arranged transport with their boat man who will drop you off at the famous yellow bridge which connects the two islands. The price is fixed at 60K per person one way. Once we arrived, we rented two motorbikes and took off to see the sights. Our top recommendations if you fancy a day trip are:
Blue Lagoon (Ceningan): In case you're keen on seeing the bluest water you'll ever set your eyes on.
Dream Beach (Lembongan): Very pretty, although small white sand beach very much worth a stop for a dip!
Cookies coffee shop and foods: Perfect place for a quick lunch on Lembongan (Oreo milkshake was 10/10).
Last stop bar & cafe (Ceningan): We stopped here for a beer before hopping back onto the boat to Penida and found the cutest puppies EVER. The staff is really great and when you get hot you can just walk right down the stairs and into the crystal clear water.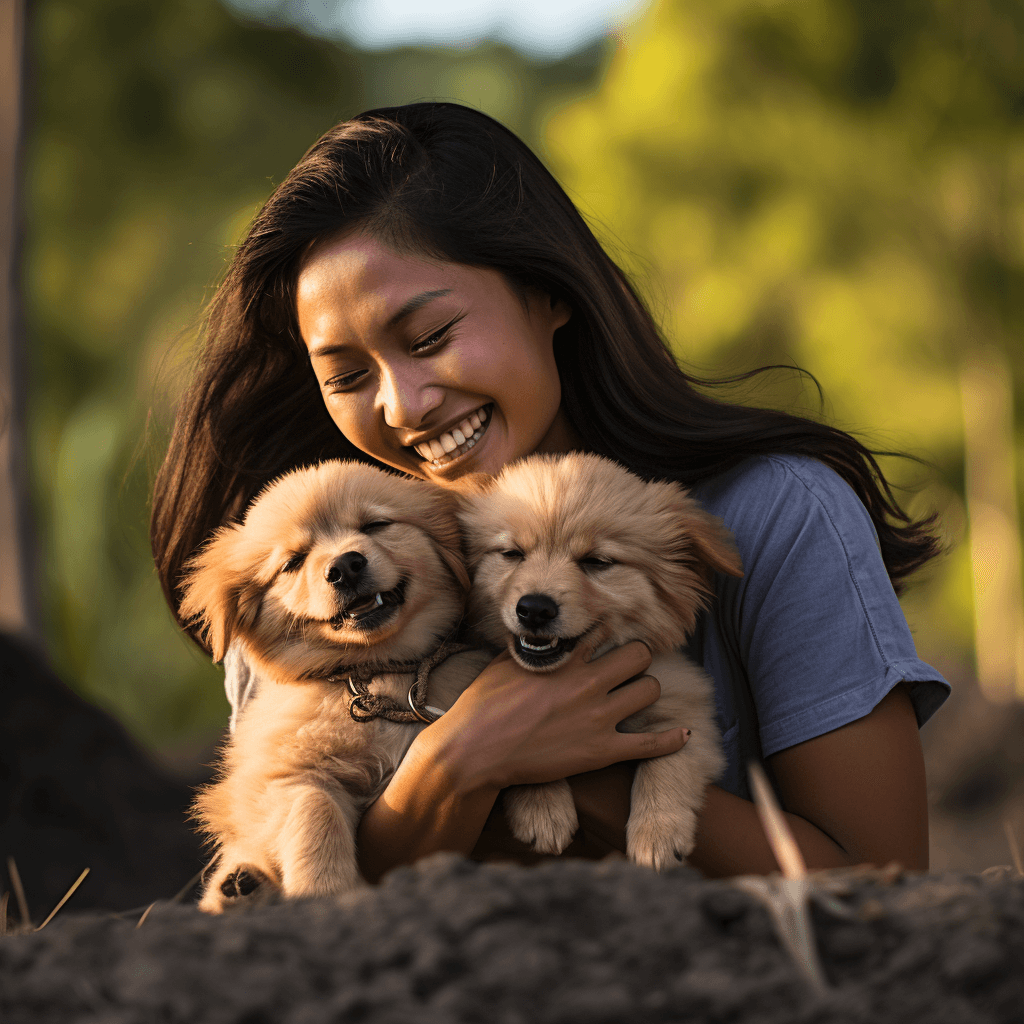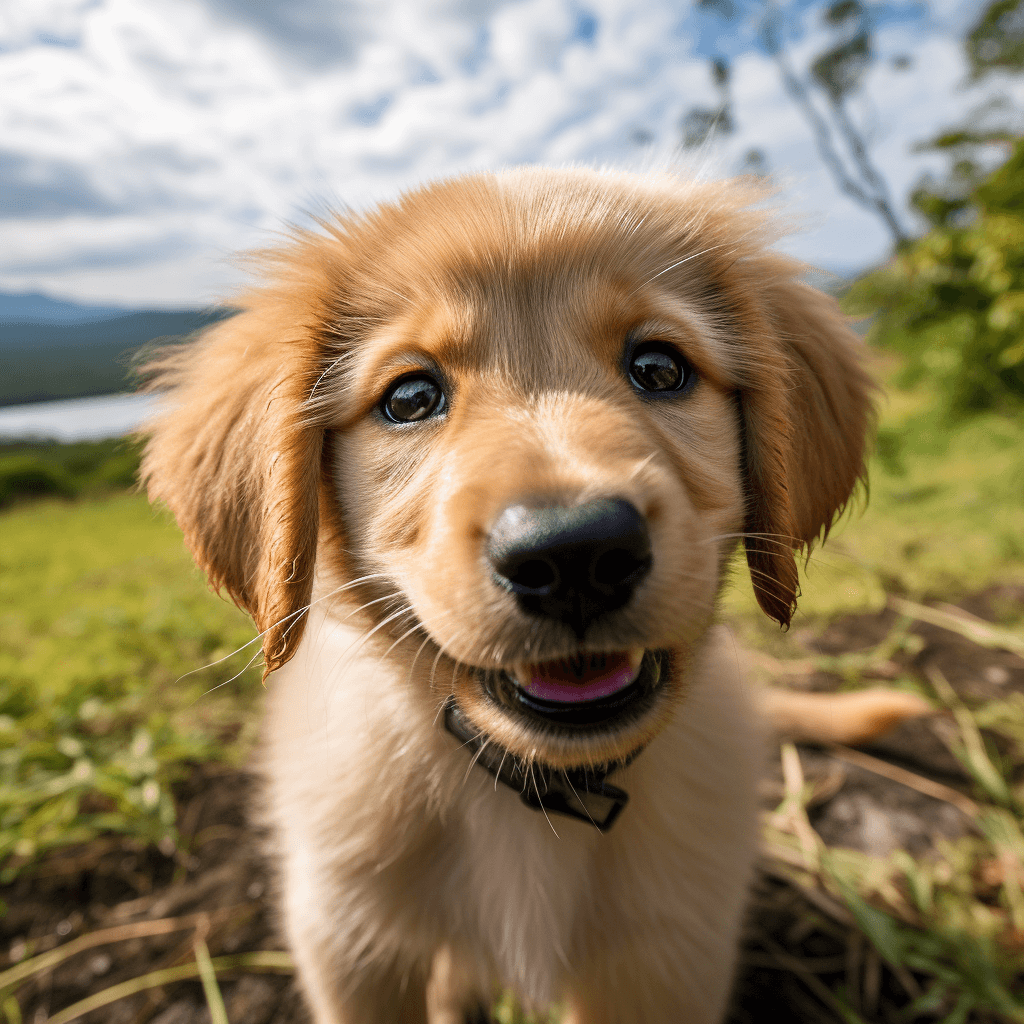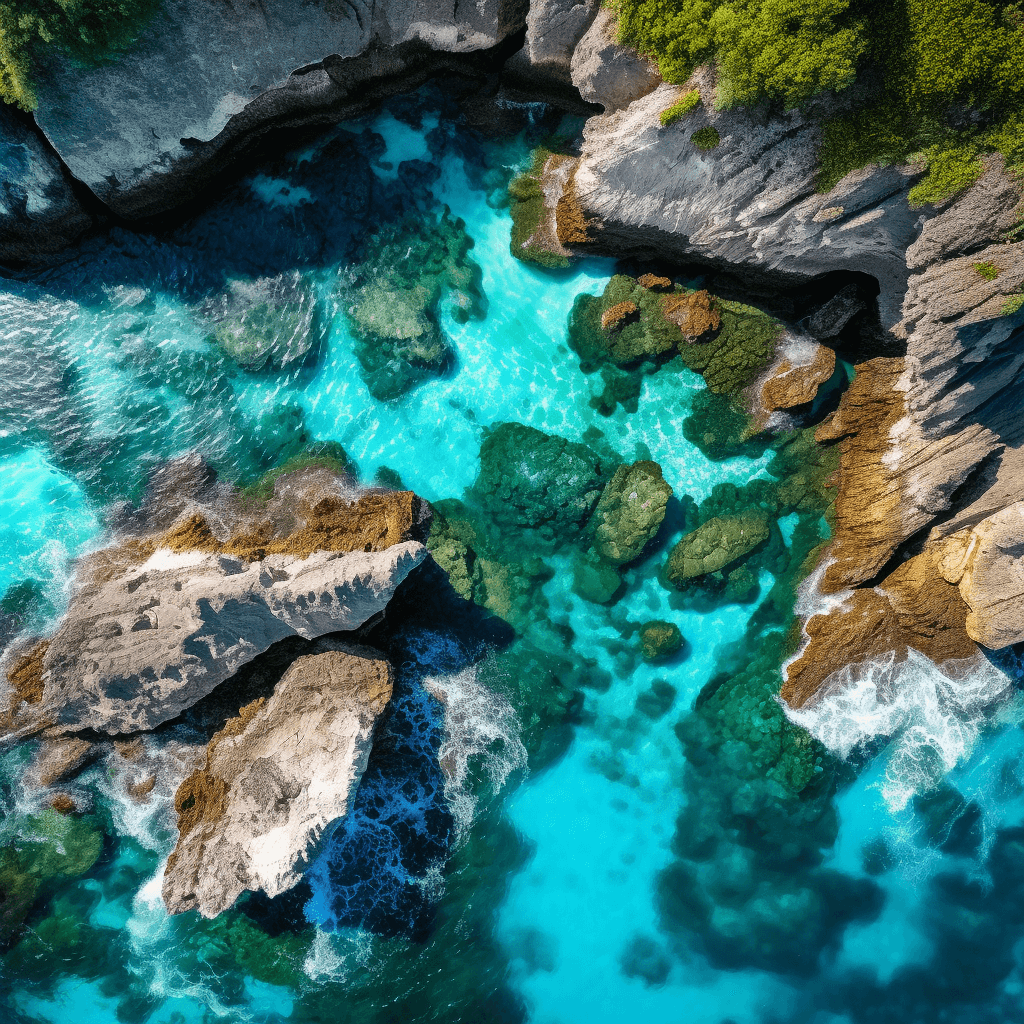 Last but not least
You may have noticed that we haven't recommended any accommodations in this article. This is simply because every time we were on Penida (yes, all 3 times) – we were very underwhelmed with where we were staying. We CAN tell you this though:
Make sure you're not too close to this mosque (unless you'd like to get woken up at 4:30 AM)
Rely on the most recent Booking.com and Google reviews. Just because a place had a good service when it opened, doesn't mean it has kept it!