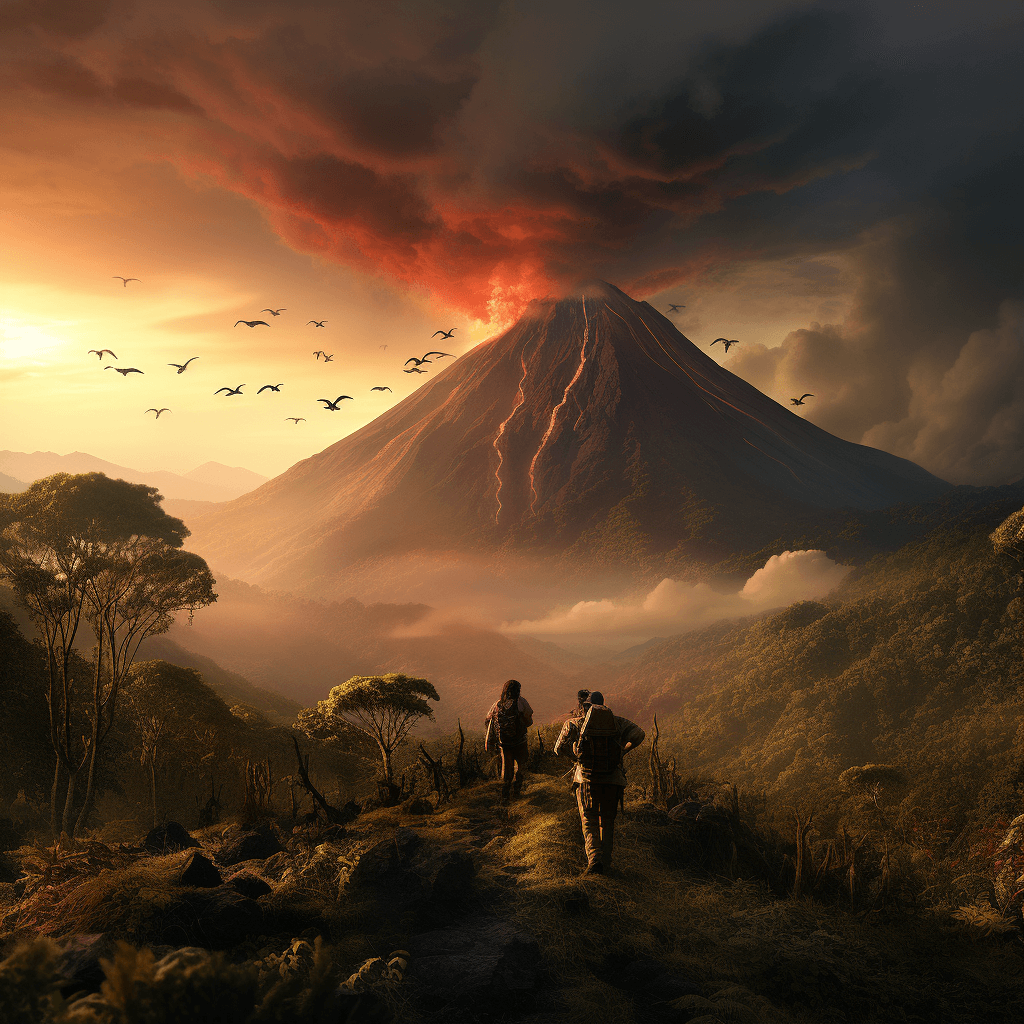 Acatenango Volcano Hike: Everything you Need to Know
While relaxing on lake Atitlan in Guatemala one day in early December, I stumbled upon a photo on Instagram of @7vensuns standing on top of the Acatenango volcano. It was one of those moments that you instantly decide you're going to do something well before knowing what's involved. I immediately knew I wasn't leaving Guatemala before climbing that volcano.
Rest assured, a lot of people will think your crazy, but there's nothing dangerous about this expedition as long as you're well prepared (which is why I'm here!).
The reason you hike up Acatenango, which is a dormant volcano, is to get the best views of Fuego, which is an active volcano. Not only do you get to see Fuego erupt from up close, but the 360 view also allows you to see Volcan Agua looming over Antigua. On a clear day you can even see all the Atitlan Lake, which is over 60km away.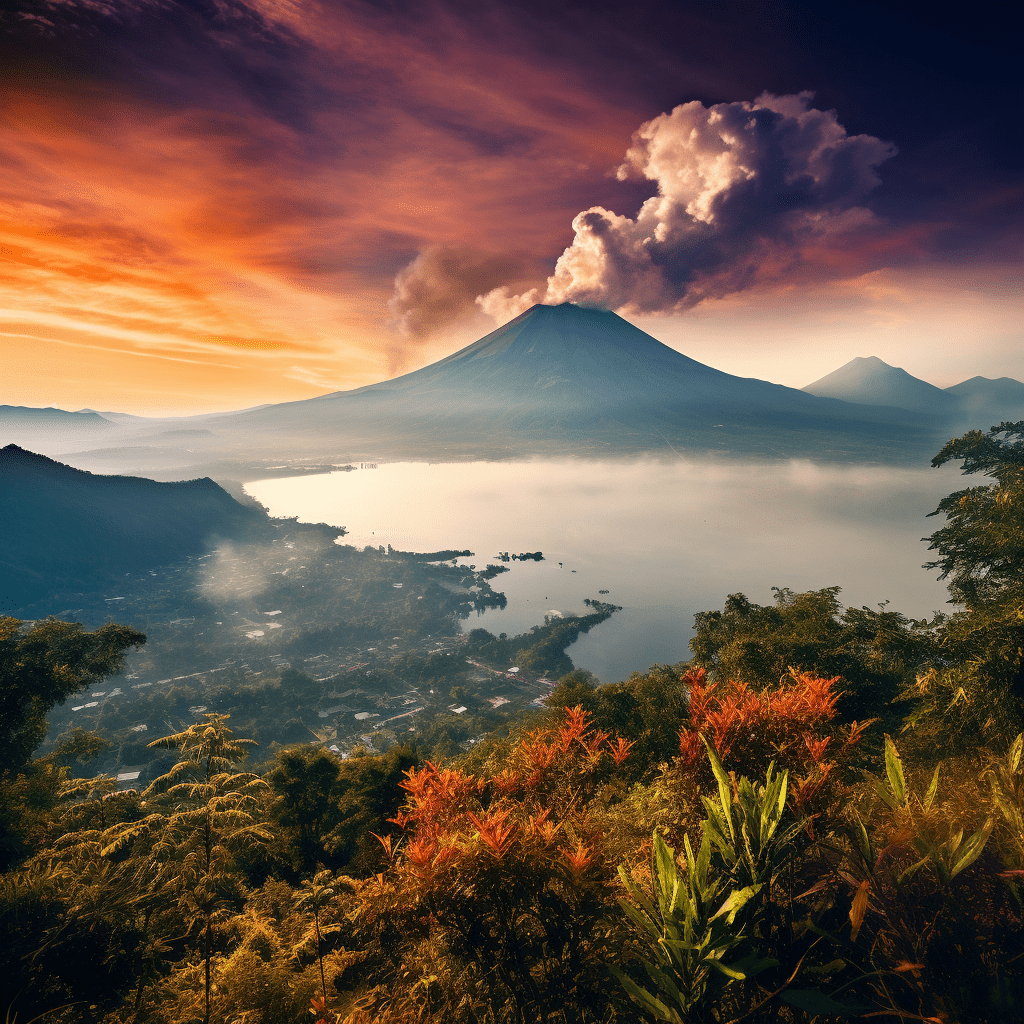 Choose your tour wisely
I'll begin by saying that this isn't a hike you attempt without a local guide. The hike can be done two ways, both starting and finishing in Antigua. You can either attempt the ascent and decent on a day trip, or opt for a two day tour which allows you to stay on top of Acatenango for sunset and sunrise.
Always thinking photography first I chose the second option to be at the top for that beautiful golden light. Also the idea of being able to say that I slept on top of a volcano appealed to me.
So after reading about one hundred different Tripadvisor and Google reviews on the hike, I saw that many people I knew that had done it had been with Wicho & Charlie and had had a really positive experience.
Already in Antigua (the starting point for the hike), I sent them a DM asking if they had space for the next day and luckily I was able to join in. I would recommend you not wait until the last minute like I did, because the hike does fill up quick! The tour will set you back 400 Quezales or about 70$ CAD.
What to pack
By chooseing to go with Wicho & Charlie or other recommended operators (I also heard good things about the tour operated by Tropicana Hostel), your meals and sleeping equipment will be provided.
I brought my 65L bag since it is the only ergonomic one I have. I left with shorts, sneakers and a t-shirt since it was pretty hot at the start of the trail. Everything else went in the bag and made for about 25-30lbs of weight to carry up the volcano. Keep in mind at least 10lbs of my total weight was camera gear which will be unnecessary to the average hiker.
Pants (I unfortunately only had jeans)
Leggings (These were a savior at night)
Wool Socks
Headlamp (I brought two just in case)
Extra blanket (Very optional, it was for photos)
Tripod (Also very optional)
Camera (I brought two, just in case)
Extra SD cards and camera batteries
Tuque, beanie, warm hat, however you want to call it
Gloves (Rented at Wicho & Charlie's)
Trekking pole (Rented at Wicho & Charlie's)
Scarf (Rented at Wicho & Charlie's)
4 litres of water (A must)
Trail mix & bag of almonds
A Gatorade
Lunch (provided, but you need to carry it)
From Antigua to the start line
I arrived at the Wicho & Charlie office in Antigua at 7:30 am sharp and was greeted with a hot breakfast and was able to leave my unnecessary belongings in their storage.
Then, one by one we went into their equipment room to rent what we didn't have with us. This is super handy as a backpacker, as I left Canada without any decent hiking gear. They had everything you could need from hiking boots, jackets, headlamps, even good quality backpacks.
At 10:00 am we packed everything into two vans and drove off to the start of the trail which is an hour drive from Antigua. This is a great time to get to know everybody who will be joining you on the hike!
> See our photo diary from Antigua Guatemala HERE <
From drop off to base camp
That day, we were a large group of about 25 hikers so we were greeted by five guides upon disembarking from the vans. Depending on the day, groups will be anywhere between 10-30 hikers.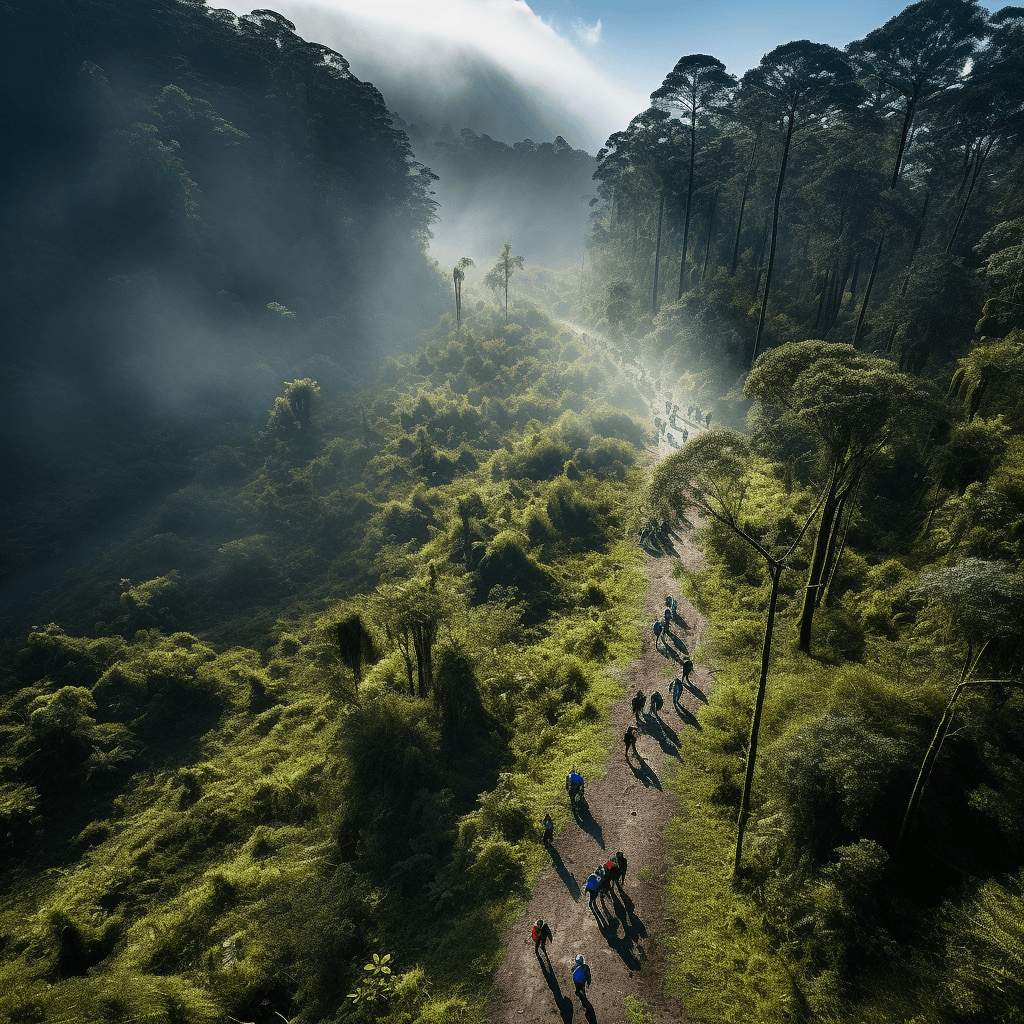 After making sure everyone was well equipped, we started the climb up Acatenango at 11:20 am. After only twenty minutes, I realized how essential my trekking pole would be. Loose dirt and ash is what you're hiking through most of the way up. Without at least one pole, I would have been taking two steps forward and one step back the whole way up.
The convoy will stop for breaks whenever the guides see it's necessary, in our case about every 20-30 minutes. This allows the slowest hikers to catch back up to the rest and for everyone to catch their breath. As we approached base camp, breaks became even more frequent to allow hikers to acclimatize.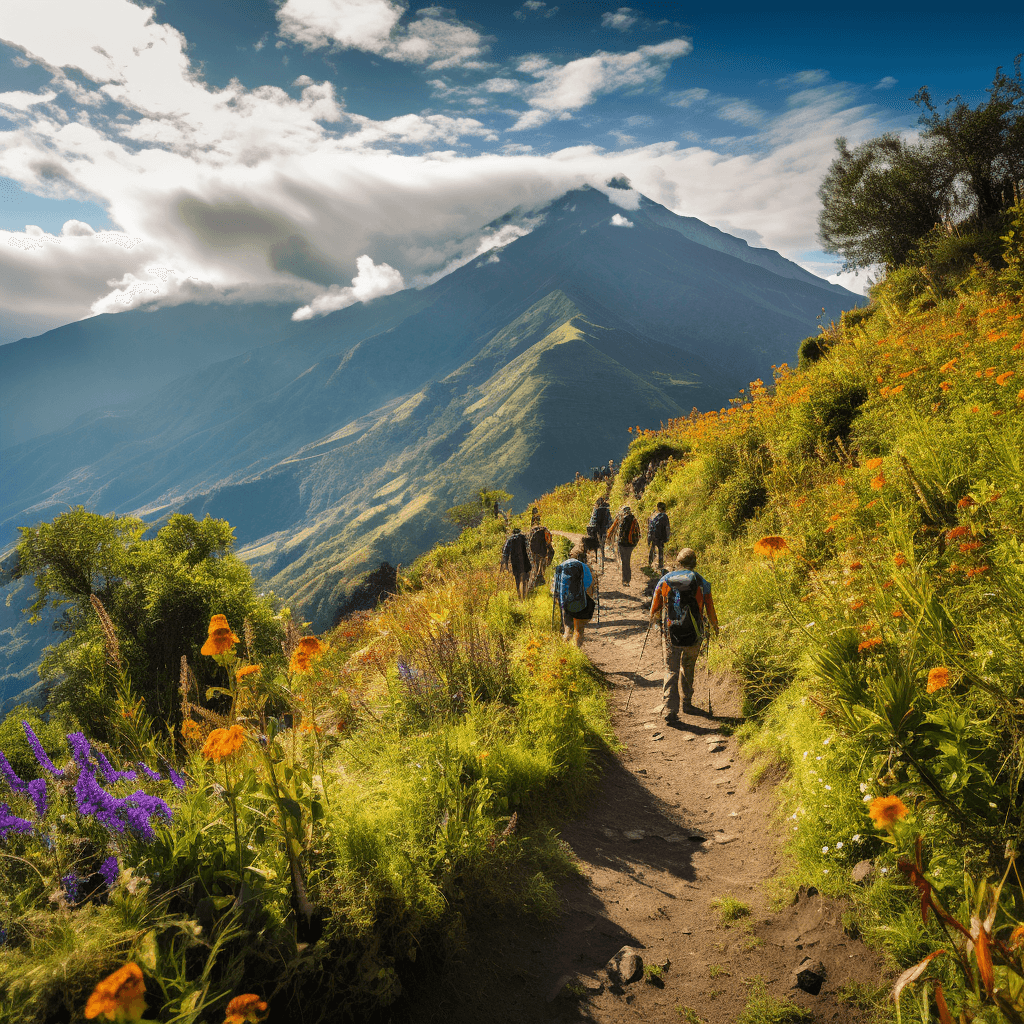 The hike begins at 2200m and base camp is located at 3700m. In general, this isn't high enough for severe altitude sickness but you will definitely feel the lack of oxygen as you approach base.
We reached base camp juste before 4:00pm, four and a half hours after we departed. Although the views on the way up are good, it was nothing compared to what we saw upon arriving. In front of us, Fuego, the active volcano which is almost constantly erupting, was only a few hundred meters away. Ninety degrees from Fuego, Volcan Agua loomed in the distance with Antigua at it's base.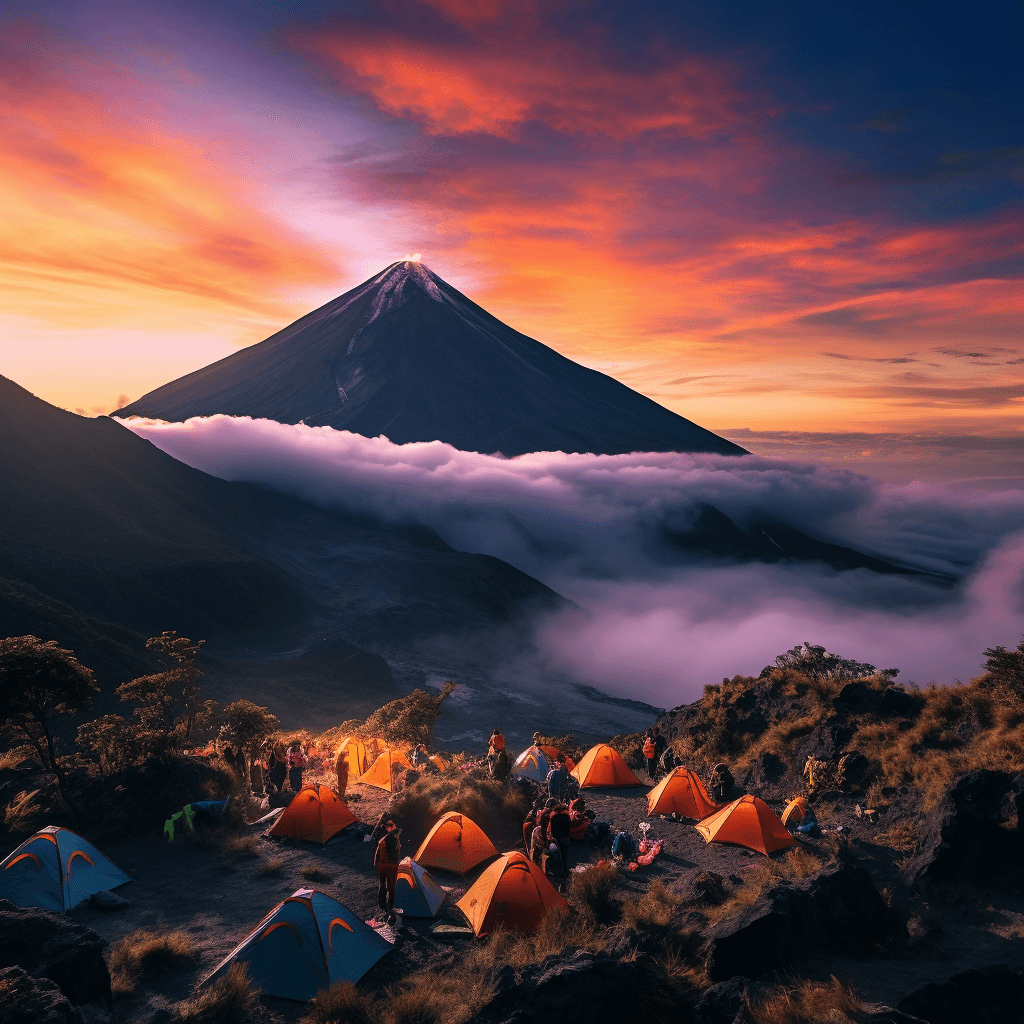 The Summit
After dropping our belongings in the huge ten person tents, the guides instructed us to bring only the essentials to summit. The highest point of Acatenango is only 200m up from the basecamp but the climb takes at least an hour. It's incredibly steep and almost as soon as we took off the conditions took a turn for the worse.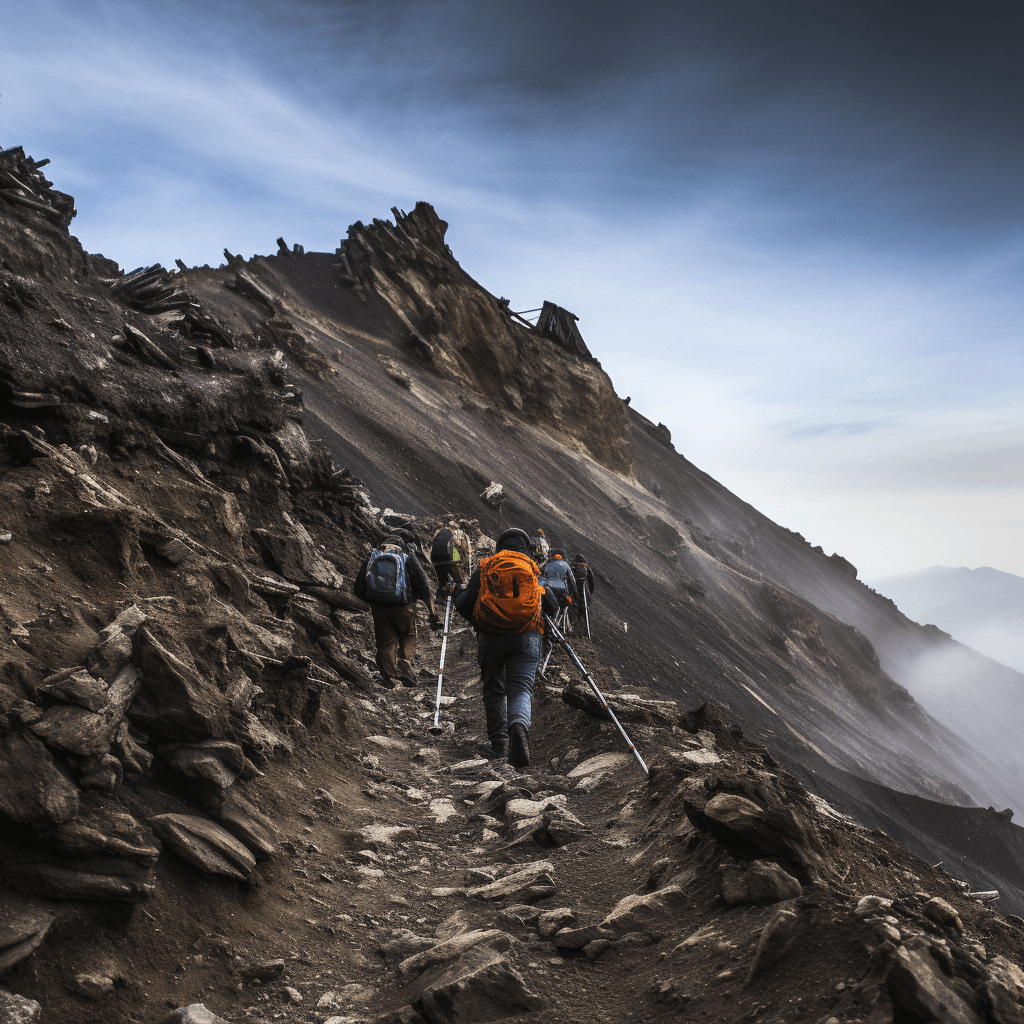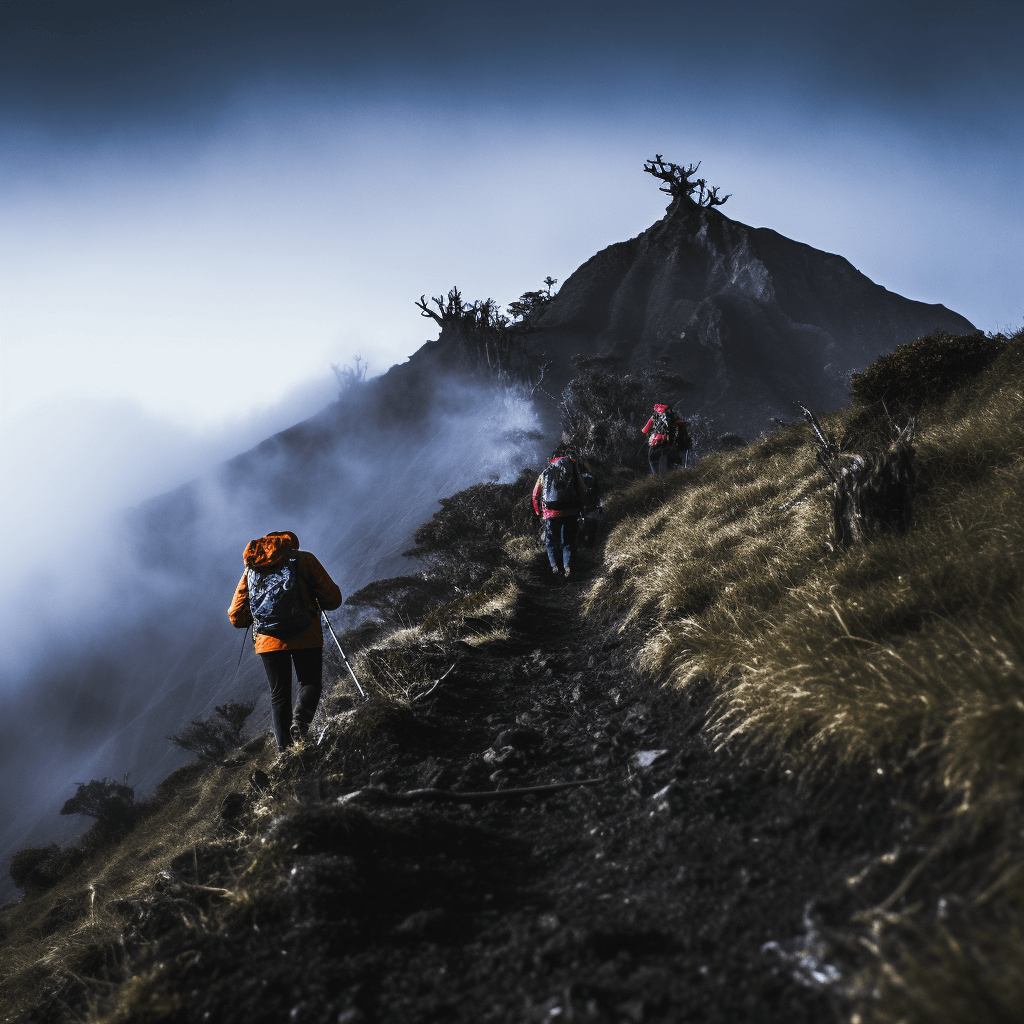 Clouds rolled in and as we approached the summit there was no visibility. Winds were so strong at some points I thought they might blow me right over. We caught a glimpse of the sun dipping below the horizon at the summit, but it essentially looked like this the whole time we were there.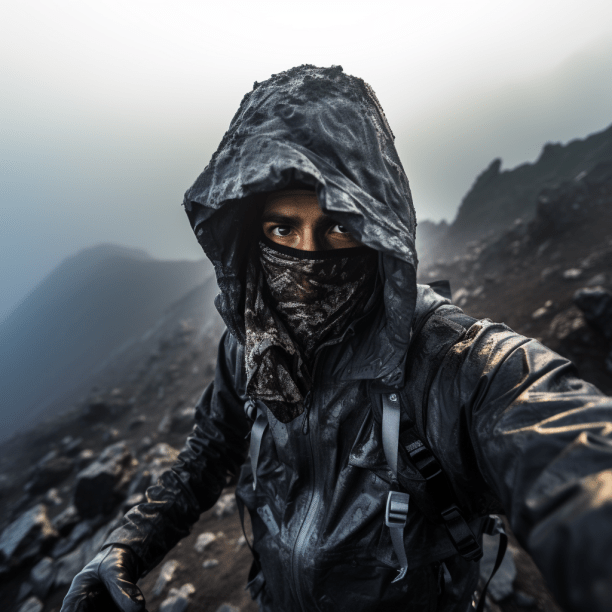 Everyone was wet from the condensation so we headed back down as darkness set in. It only took about 15 minutes to come back to base as you can slide very quickly through the volcanic ash on the way down.
A night on a volcano
After taking off the wet clothes, a fire was started and we indulged in a cup of delicious Guatemalan hot chocolate. Spaghetti was up next, everyone huddled around to stay warm as wind and rain violently hit the tarp above our heads.
We then huddled in the sleeping bags, rolling blankets around us as best we could. There were no pillows, which was my only negative experience on the whole trip, as they were promised in the tour description. It was about 0-2 degrees celsius that night, so I definitely wasn't ready to sacrifice a blanket to put beneath my head. That, combined with the winds and my 6′-1" frame on the small raised cot, made for very little sleep.
At 4:00 am, my alarm went off as this is when we would have started the climb for sunrise back to the summit. I heard the guides in the tent next door talking and deduced that the conditions were still too poor to attempt going up. Even though this was out of everybody's control, I was still disappointed and tossed and turned in my sleeping bag, wondering weather I'd get a single nice photo out of the trip.
Sunrise over Acatenango
At 5:45am, we all got out of the tents for sunrise. Almost immediately, the headache from the lack of sleep, muscle pains and freezing fingers were all forgotten. Words can't describe the view that morning.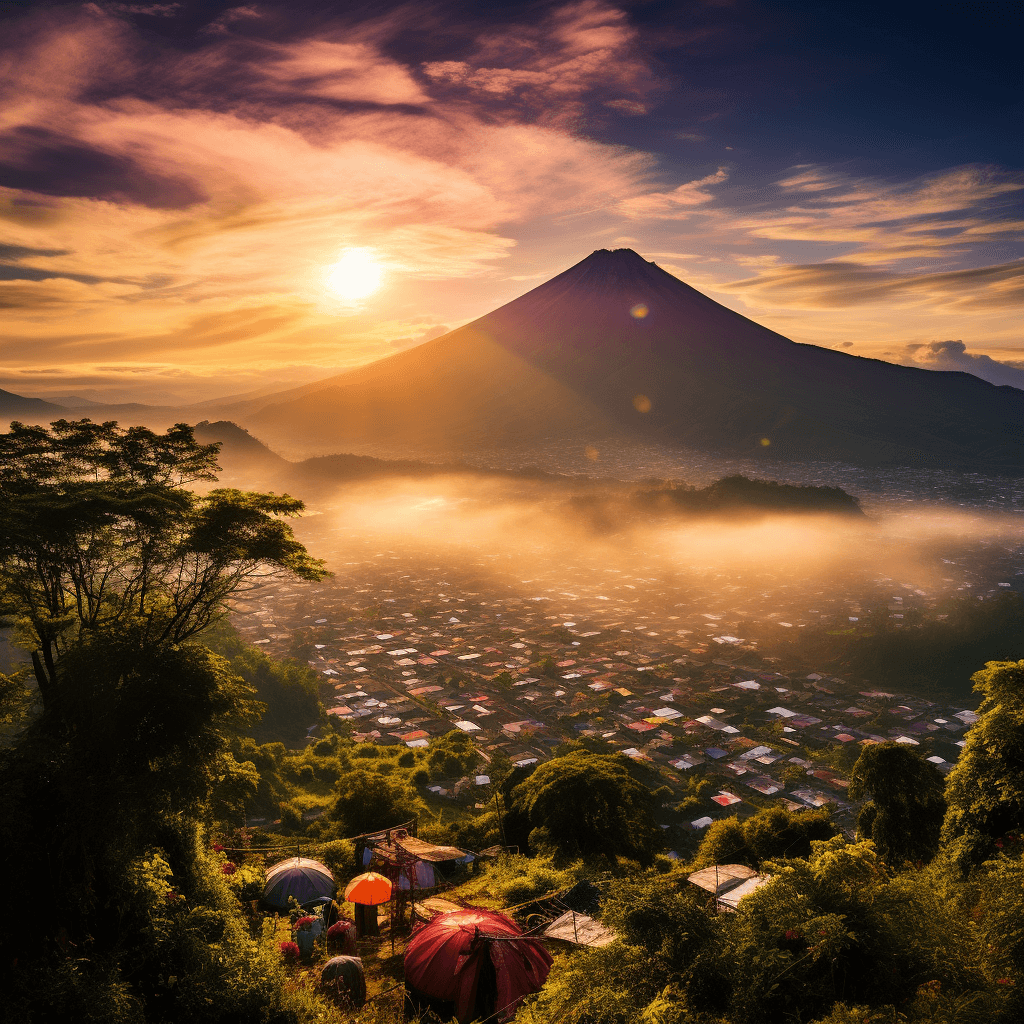 I quickly gathered up my tripod and set it up to gather a timelapse of the clouds rolling over Agua Volcano as the sun came up behind it. After about a minute of admiring the view, I heard a huge bang as if someone had set off a firecracker. Fuego was erupting, basked in the perfect rays of sunrise.
As fast as I could, i grabbed my other camera, ran a bit higher up the volcano-side (mountainside doesn't sound appropriate here), set the exposure and held down the shutter as long as possible. You have less than thirty seconds from when the volcano erupts to capture the ash rising from the throat before it becomes a cloud of ash.
There aren't many pictures I feel are worthy enough to be printed and hung up in my future house (or van) but this is one of them.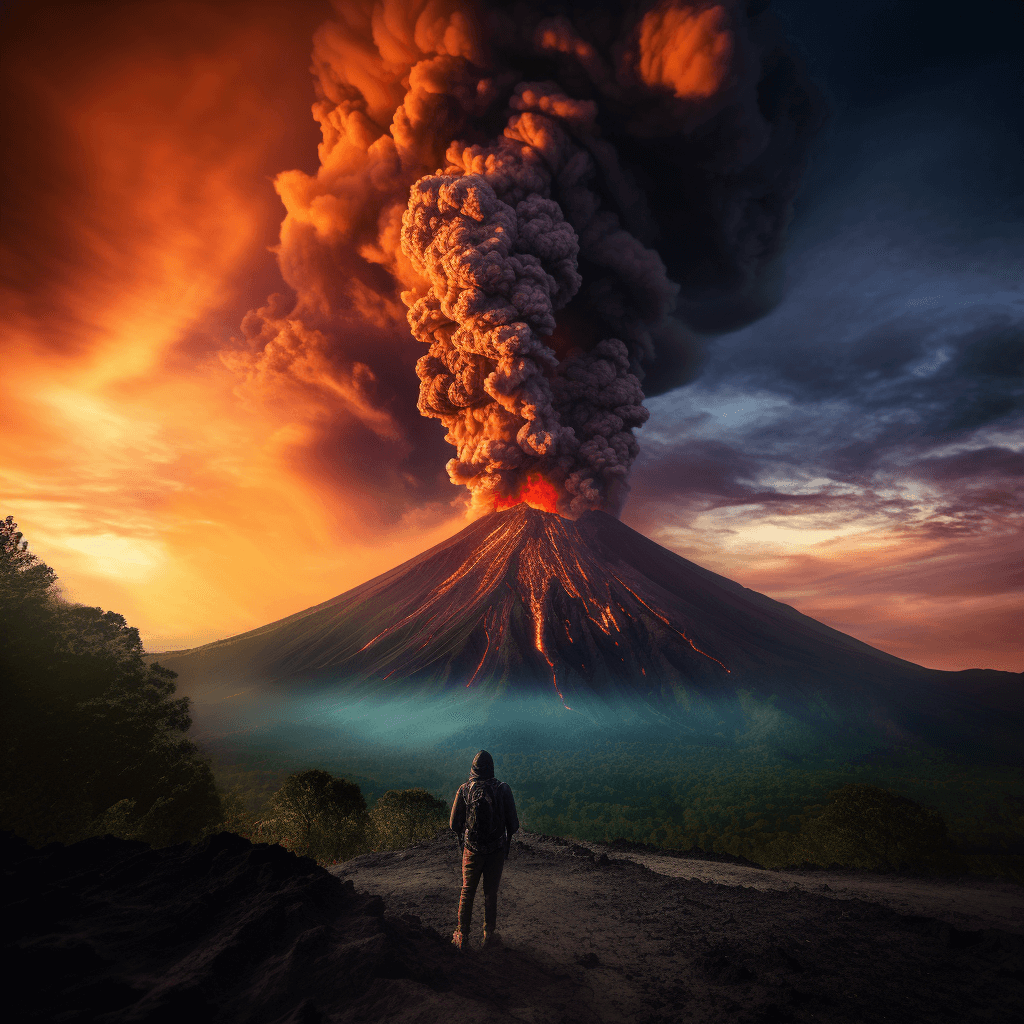 Descent
After a much needed bowl of hot oatmeal and some coffee, we set off at about 8:00 am. Three or four of us pretty much ran the whole way down with the lead guide "Tupac".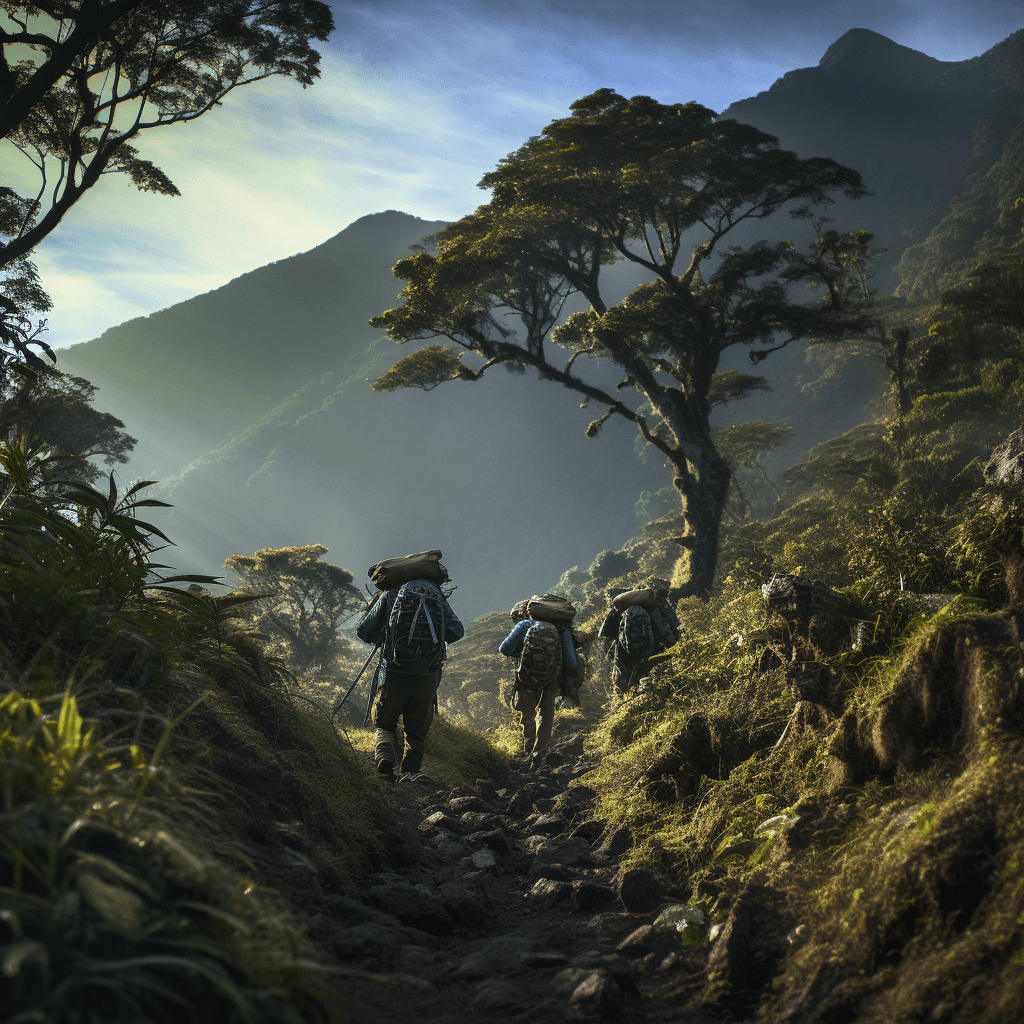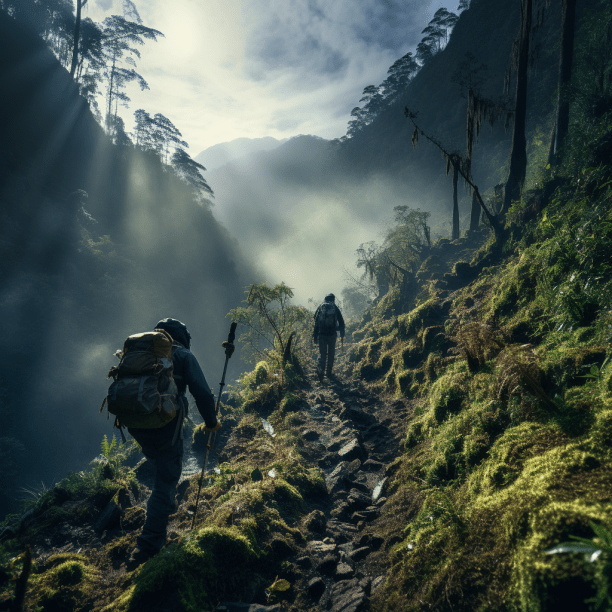 It was probably more stress on the knees but hey, if I could make it down in two hours instead of three, why wouldn't I. Everything went smoothly and at about 10:30 am we were celebrating with an ice cold Gallo beer next to the shuttles which would bring us back into town.
Overall impressions
Climbing the Acatenango volcano was probably the hardest hike I've done, definitely in the top three. It was also the most rewarding and for about 70$, worth every penny. Everyone at Wicho & Charlie were professional, the guides were awesome, the food was good and they have the best base camp view on the mountain.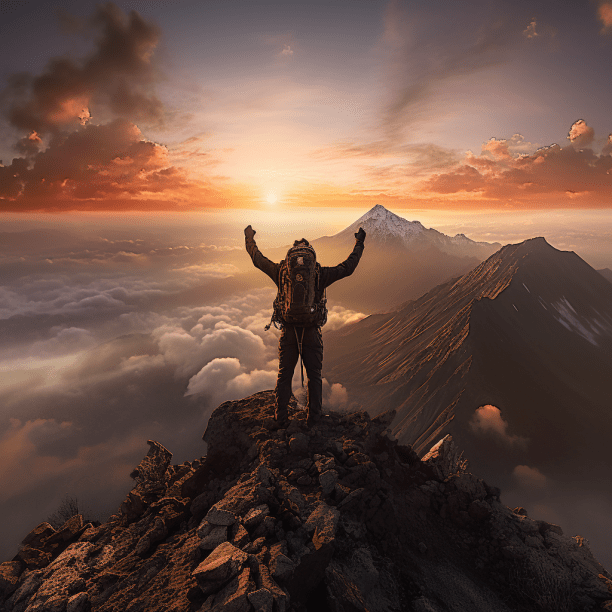 If you're thinking of attempting Acatenango, my suggestion would be to expect the worse. Nobody can control the weather at 3700m atop a volcano, so yes there are chances you won't see a thing the whole time you are there. Chances are that won't happen and hopefully you'll be able to see sunrise from the summit, something I wasn't able to experience.
In any case, it'll be an experience you won't soon forget.
Disclaimer: I was a guest on this tour by Wicho & Charlie's. Sponsored content was for promotion through Instagram only. As such, none of the content on this post is sponsored, all opinions on the tour are as always my own.